Exposition "Electro: from Kraftwerk to Daft Punk"
News
Exposition "Electro: from Kraftwerk to Daft Punk"
The Philharmonie de Paris presents a large exposition about Electronic Music through the exploration of its imaginary, its innovations, its myths as well as its meeting points with plastic arts.
Over 120 BPM, electronic music makes the entire planet dance. Parisian or Berliner youth, Ibiza's clubbers, teknivals new punks as well as millennials from New York City or Los Angeles, without forgetting Tunis post-revolutionary generation or boys from Rio favelas.
Designed by Jean-Yves Leloup, journalist, DJ, sound artist.
AN EXPERIMENTAL EXPOSITION
The immersive soundtrack, delegated to Laurent Garnier, follows the exposition path. It revisits the History of Electronic Music, from 70's Disco to current futuristic Techno, in the form of tens of thematic mixes that synthesize the spirit of a time by means of classic tunes, hits and rarities.
An immersive sound experience, resulting from a close collaboration with Sonos, will send the visitor into a trip at the heart of yesterday's and today's electronic music revolution.
Kraftwerk has conceived a series of videos projected in 3D and broadcast with spatialized sound for the exposition.
Jean-Michel Jarre presents an "imaginary studio" from its own collection of rare synths, commending revolutionary technologies that supported his great career.
Daft Punk: The famous duo presents a mise en abyme of its universe through an original installation based on their "Technologic" videoclip.
A REFLEXION DAY
Saturday April 13th – from 9:30 to 18:00, in partnership with INA and Sacem.
Don't miss the Panorama of Electronic Music in France presentation by Olivier Pellerin (journalist) and Olivier Le Covec (General Documentation and Distribution Director, Sacem).
To extend the exposition, this day proposes a historical, sociological and esthetical lecture of Electronic Music.
Artists' testimonies, crossed with journalists' and researchers' analysis, will give a view of codes, esthetical representations as well as watchwords and practices that have been through Electronic Music culture. 
Electronic Music has been enriched by all genres, and its characteristics: flow, sample, round bass, broaden the whole pop culture, from movies to advertising.
The Philharmonie will make all the conferences available online soon in their website.
SEE MORE
Extend the experience on the Sacem online Museum, by browsing the "Electronic Music : from labs to dancefloors" exposition also designed by Jean-Yves Leloup.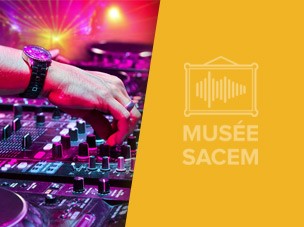 Electronic Music, which makes several generations dance, has a long history, often unknown by the public.
Far from dancefloors, it was developed in research studios during the post-war years and got involved into pop culture since 1968 through movies, rock, psychedelia and then space music.
To discover through Sacem archives, original podcasts, and INA videos...