French Electronic Lab
News
French Electronic Lab
17 october 2019
France is the focus of ADE at French Electronic Lab.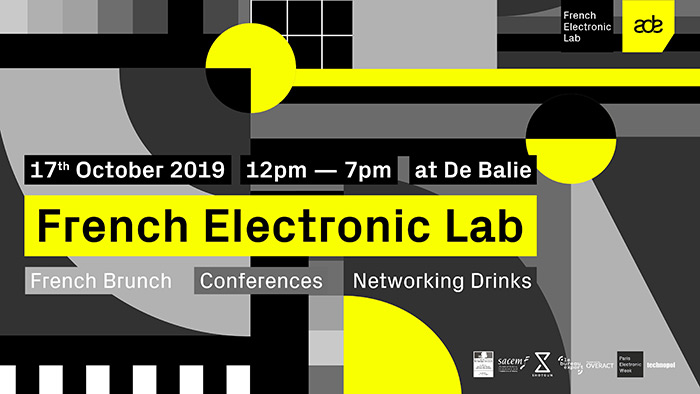 On October 17 Technopol, Sacem and Bureau Export will be presenting their joint venture, the French Electronic Lab, for the first time at the De Balie cultural centre.
With conferences, showcases, and speed meetings the focus will be on the entire French electronic music scene (artists, record labels, booking agencies, etc.) and its live venues (clubs and festivals). The venue will be a place to network and exchange ideas and information on the current dynamic French music scene.
France has always been a prolific innovator in electronic music - the land of festivals, clubs and underground raves, not to mention free parties, and offers a huge diversity of artists, music styles and events. And the country is now more than ever a breeding ground for talented creative artists, which makes the French scene highly popular internationally. In fact electronic music is the genre that has had the most success abroad.
Over the past 10 years new talent has emerged, giving the electronic music industry a new look and fresh impetus. The trend is confirmed by two major studies, one published in 2016 by Sacem and one in 2017 by Shotgun and Technopol.
The aim of the French Electronic Lab is to present a profile and strengthen the influence of electronic music in France through a series of talks in English around a common theme: Working with the French market. Throughout the day we will be sharing tips and tools that professionals need to develop a long-lasting relationship with the most influential participants in the country.
The French Electronic Lab is open to everyone and will take over the De Balie cultural centre between 12pm and 7pm.
On the programme:
12.00 - 2.00 - French brunch - in partnership with Shotgun
1.00 - 1.45 - Working with French institutions
2.00 - 2.45 - Working with clubs and festivals
3.00 - 3.45 - Working with record labels, booking agencies and managers
4.00 - 4.45 - Which French artists are most popular abroad?
5.00 - 7.00 - French aperitif - in partnership with Overact